Monarch Pitching Lab

January 08, 2019 - January 31, 2019
This camp is designed to prepare pitchers, both physically and mentally, for the beginning of their Spring Season. The Old Dominion Coaching Staff will assess player skill sets and create an individualized development plan consisting of a throwing progression, bullpen drills, and skill work. Pitchers will have the opportunity to throw modified bullpens and be ready to excel going into their High School Pre-Season Workouts.
Pitchers will benefit from small group setting with a 4/1 Player to Coach ratio. Players can sign up for one session or multiple sessions. Skill work instruction will be individualized based on the needs of each pitcher and include:
Modified Bullpens
Mechanical Drill Work
Video and Rapsodo Analysis
Long Toss Program with Weekly Throwing Routines
Mental Approach - preparing for success at the High School and College level
8 sessions
Who: Pitchers Grades 9-12
Where: Bud Metheny Baseball Complex
When: Tuesdays & Thursdays 7:00-8:30pm
Camp Dates: January 8, 10, 15, 17, 22, 24, 29, & 31
Cost: $60/Session - $220/4 Sessions - $400/8 Sessions
Available Spots: x10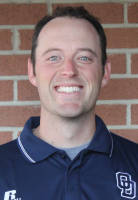 Bud Metheny Baseball Complex
January 08, 2019 - January 31, 2019 | Norfolk , Virginia
Tue, January 08, 2019 - Thu, January 31, 2019
43rd Street
Norfolk
,
Virginia
23529