August Showcase Camp

August 24, 2019 - August 25, 2019
The August Showcase allows each camper to showcase all aspects of their game.
Position players will have the opportunity to throw from their position, run the 30/60 yard dash, take on field batting practice and play in a game. Pitchers will throw in the game on the ODU Baseball field and work on mechanics and drills with pitching coach Mike Marron.
Players will be broken up into teams evenly for the game.
Camp is from 9 am - 5 pm both days.
8:00-9:00 am Check in Both Days
10-12 Showcase Session
12-1 Lunch Break (We do not provide lunch for the players)
1-5 Pm Games
-Open to Any and All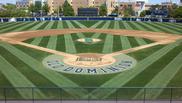 Bud Metheny Baseball Complex
Ages: 13 - 19
August 24, 2019 - August 25, 2019 | Norfolk, Virginia
Sat, August 24, 2019 - Sun, August 25, 2019
43rd Street
Parker Ave
Norfolk
,
Virginia
23529